The Temperance Hall, New Street, Longford
Telephone: 043 3349548
Email: thetemperancehall@eircom.net
Website: www.temperancehalllongford.ie
The Temperance Hall has been at the heart of Longford town since 1905. Since its refurbishment in 2004 it is now a versatile community centre with four meeting rooms which cater for groups from 15 to 300 people. Complete with stage, lighting and sound systems the Temperance Hall is the ideal venue for the many groups who use its facilities. As a venue it can facilitate businesses, community or leisure activities and voluntary groups at very competitive rates. Discounted rates are available to smaller non-funded groups.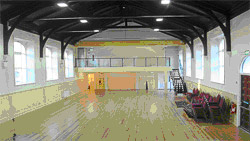 Staff in the Temperance Hall include: Donal Daly, Michelle Scott, Brendan Williams, Kathleen Mahon and Jason Donoghue.
Present Committee Members: Mona Considine, Hugh Connolly, Fr. Thomas Healy, Georgina Hourican, Peter Kilemade, Ruth McGarry, Sive McGuinness, Michael Nevin, Trisha Nugent and Jimmy O'Connor.
History: In the mid 1990s St. Joseph's Temperance Hall had begun to fall into to a state of significant disrepair. The building had a severe presence of rot; electrical and plumbing installations were very dated and the whole fabric of the building had reached a sorry state. A voluntary restoration committee was formed which undertook the task of bringing this landmark community facility back to its rightful place as a wonderful amenity at heart of the town. After endless hours invested in planning and fundraising the restoration the committee were very proud to reopen the building on 19th March 2004 and to offer it back to the local community as a renewed and enhanced property ready to contribute again to the life of Longford town and county.
Conscious of the vision of the hall's founder to provide a safe space for young people and mindful of the challenges posed by drink and drugs an idea evolved for a youth café where young people would be able to come to socialise and meet their friends in a safe environment. After a number of meetings and much deliberation the Attic Youth Cafe was born. Since that time the Attic has developed strong links with Foróige and now the Foróige Attic Youth Café continues to go from strength to strength. All associated with the Hall are delighted to have the Attic based at the Temperance Hall and are proud of the service which it provides to our youth and is grateful to all volunteers who give so generously of their time.
In autumn 2008 the Temperance Hall Committee were delighted to have been nominated by Longford County Council for the Pride of Place Awards. Three Committee members travelled to Co. Waterford for the award-giving ceremony and were thrilled to have been announced as first-prize winners in the best community facility category. The Temperance Hall members were presented with a Waterford Crystal Bowl and €2,000 by President Mary McAleese.
Restoration Committee Members were: Arthur Cumiskey, John Dempsey, John Gilchrist, Fr. Thomas Healy, Louis Herterich, Liam Hyland, Ann Kane, Michael Keenan, Mary Kelliher, Eddie Kiernan, Trisha Nugent and Kieran O'Regan.